It's been a while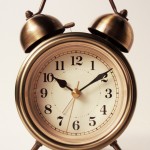 I've had a number of people asking me "what's happening with the baby stuff?" over the last few weeks, so it's clearly time for another post.
The reason there hasn't been one is because nothing has happened to report.  If you've been bored of waiting, join the club.
My last cycle has been 60 days. I needed a new one to start to begin taking 200mg of Clomid – our last go with this drug before we move on to FSH injections. As I have mentioned before, patience is not my virtue, and waiting this long for something to happen that may not ever come is not fun.
I did a pregnancy test. It was negative.
As the days crept on, I became more disillusioned. We have our next appointment at clinic on 17th Dec, and it would be great to know by then if we are going to need to try something new…
So you can imagine my joy when I thought I was finally getting my period on Friday. However, it is not clear-cut, and I haven't started taking the Clomid yet (I'm supposed to take it on day 2 of a new cycle), as I'm not really sure what's happening. On the plus side though, if it ever does get going, this could mean we're on schedule for starting injections in the new year (I've sort of given up on the Clomid now).
And really nothing else has happened.