Join Me In A Dance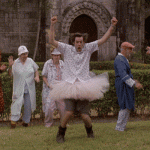 My period finally arrived!
In the end I think it was around day 50, so that was one long wait. I think I am perhaps one of the only women trying for a baby who is happy when her period comes…
But it came, and that meant I was able to call the fertility clinic to ask about increasing the Clomid dose to 100 mg. I spoke to Ms Very Lovely Nurse who told me I had permission from the consultant to increase the dose (for those of you worried I would self medicate after a recent post).
I am very happy, and hopeful this could be the treatment regime that works. These highs follow the previous waiting lows so rapidly and starkly that I feel very fickle. And if it doesn't work this month, we'll go through it all again next month. But for now, there is good news. And that deserves a celebration.
You are welcome to join in.